Feeding the young athlete: Sports nutrition made easy for players and parents
by Cynthia Lair with Scott Murdoch, Ph.D. RD
Review by Dr. Daniel Frankl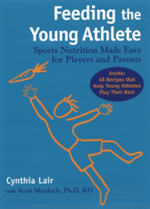 "Feeding the Young Athlete" is what the authors claim it is. It is "...a book [that is] readily accessible to young players, sideline parents and busy coaches..." Despite the authors emphasis on brevity and simplicity the 45 pages dedicated to nutrition facts are loaded with an accurate account of what most laypersons should know about this topic. The "team" and other analogies used by the authors to describe the way different nutrients supplement, complete, and interact with each other makes this topic very accessible to younger readers. "Feeding the Young Athlete" is a unique text in that it focuses on children's nutritional needs and also provides an extensive selection of healthy recipes. In addition to its educational value this book also provides children with the opportunity to learn how to prepare their own healthy meals. This may turn to be just as much fun as playing the game.
Two Thumbs Up!
Here's What Others had to Say About "Feeding the young athlete"
Read this glowing review of "Feeding the Young Athlete" in the Seatle Times Magazine.
"I highly recommend Feeding the Young Athlete for anyone concerned with the health, welfare and performance of their players. Written in the same simple, informative style as my favorite coaching manuals; the advice is clear, concise, readable and best of all--useable!"
--Jan Smisek, former US Soccer National Staff Coach
"Young athletes are expected to perform at a high level, with many practices, games and weekend tournaments. Feeding the Young Athlete is a quick and easy reference to aid the athlete in reaching higher goals."
--Mike Madison, AAU Basketball Coach and father of three athletes
"Feeding the Young Athlete is a practical guide to help parents understand and apply the science of sports nutrition in the kitchen and on the practice field. The healthy recipes taste so good that my children have already picked out their favorites."
--Susan M. Kleiner, Ph.D, RD, FACN, author of Power Eating and High Performance Nutrition
To order a copy go to the MOON SMILE PRESS web site.
Reference
Lair, C., & Murdoch, S. (2002). Feeding the young athlete: Sports nutrition made easy for players and parents . Seattle, WA: Moon Smile.